My most important journey in life thus far has been that of a wife to the most special man (my 'Darcy') for over 20 years, and a loving mother to our twin sons. I love being a mum. Each day brings with it new delight. Our sons are chatterboxes of note – eager to learn and to play, relishing in the adventure of life. What a privilege being a parent is. Adoption itself is not for the fainthearted, but it is so worth the life-changing journey. 
Professionally, I have enjoyed the creative overlap of Early Childhood Development and the Marketing, Publishing and Design industries for over 25 years, in the bustling cities of Cape Town, Johannesburg and London. After obtaining a qualification in Graphic Design and Marketing in Johannesburg in 1995, I went on to qualify as a Teacher in Battersea, London. Since then I have gained a Training qualification and am currently studying Child Psychology. 
I have co-founded and run 4 preschools (ECD centres) in SW London, UK and Johannesburg, South Africa. I co-founded Under the Son Early Childhood Education since relocating back to South Africa in 2017, after 15 years in England. We loved living in England, and enjoyed all the travel opportunities we had, but when Africa calls you home, it's a deep and resounding, insistent call… and we could not ignore it.
In Africa my soul sings.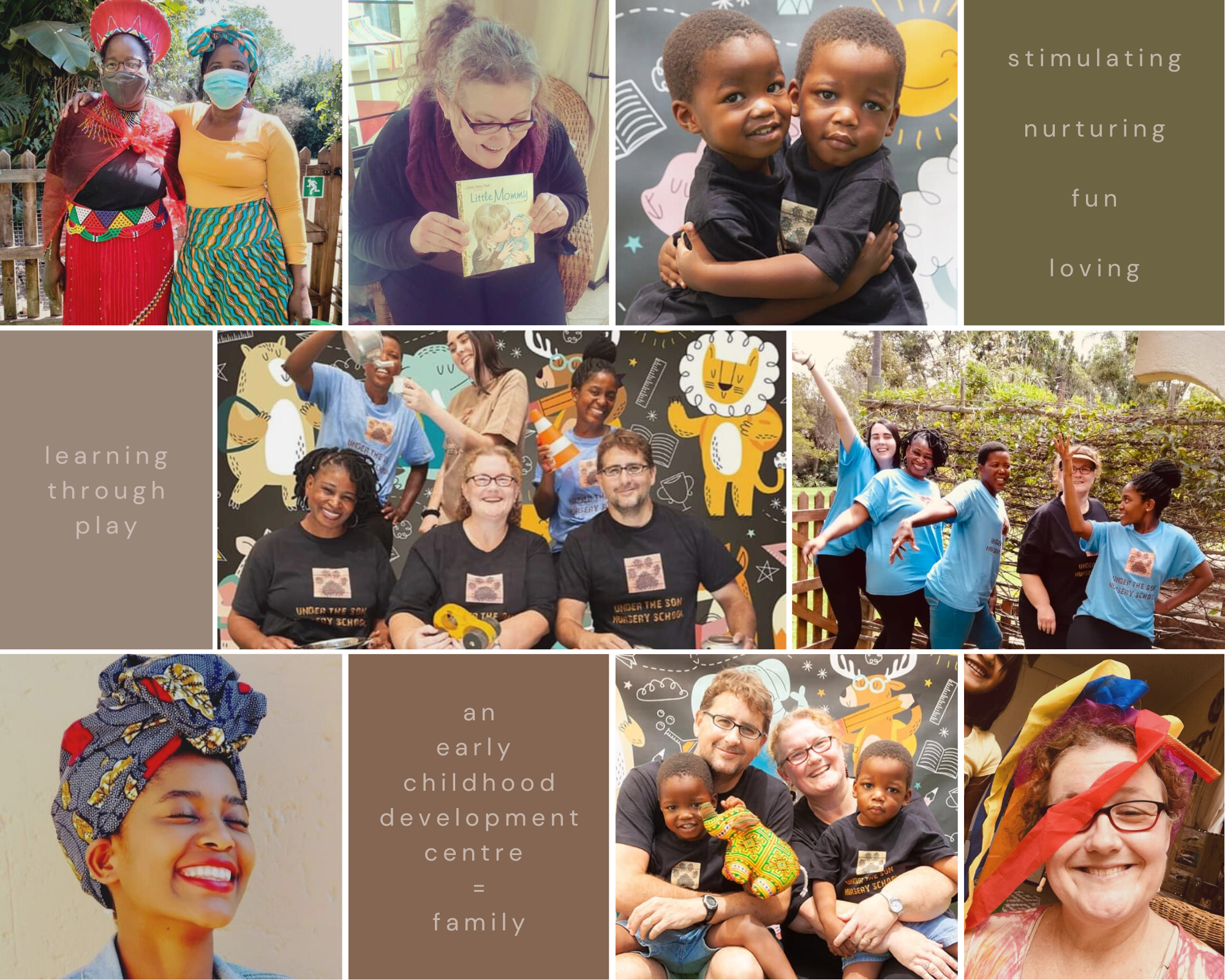 SOUTH AFRICA
Under The Son ECD Training offers a variety of Early Childhood Development focused vocational and emergency workshops. Based in Johannesburg we deliver in-person training on site and at schools in Gauteng and KZN. We deliver online training nationally and internationally.
Alongside my co-presenting expert team we train principals, teachers, parents, NGOs, grandparents etc, with a primary focus on training in townships and informal settlements. The focus is to #HelpBridgeTheSkillsGap in upskilling those who are caring for and/or parenting young children.
Under the Son Preschool Nursery has a beautifully combined Montessori and Reggio Emilia pedagogical approach, with a focus on recycling and the outdoors.
I have been working with a national corporate since 2021, with the main objective of helping marginalised ECD Centres (preschools) and young children nationally, to #HelpBreakThePovertyCycle. Other mandates within the team are Old Age Homes, GBVF (Gender-based Violence and Femicide) and Food Security/Soil Regeneration.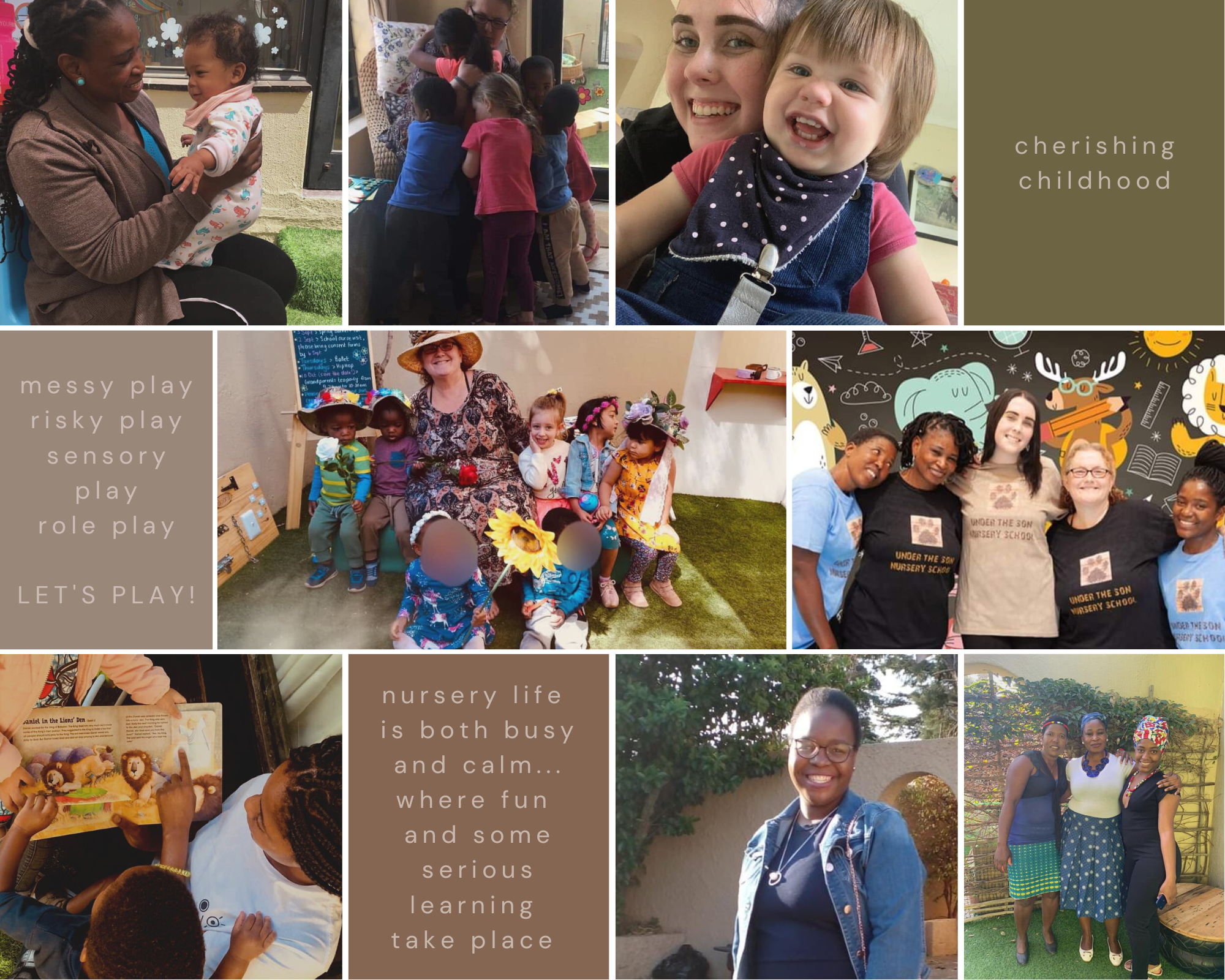 ENGLAND
My husband and I co-founded Jenniflowers Childcare LTD, with a strong SEND (Special Educational Needs and Disabilities) focus in England. We opened a preschool nursery, a day nursery and a home nursery. 
Our focus was very much community focused. On Thursdays we led Rest and Play sessions, where we opened our doors to local parents with children with an additional need, and offered an afternoon of fun, painting, dance and play for the children, while the parents rested with coffee and cake, getting to know one another and being a support to one another. Being a parent of a child with special educational needs and/or disabilities can be a lonely place. 
VOLUNTEER WORK
I sat on the Audit Committee for the Early Years Alliance in the UK (2014-2017), was the Project Director for National Children's Day UK (2017) for the Save Childhood Movement, created design and marketing material for Missing Children South Africa (2007-2016) and was on the Social Media Committee of our local Village Resident Association in Johannesburg (2019-2021). I was nominated for a London Merton Community Award (2015).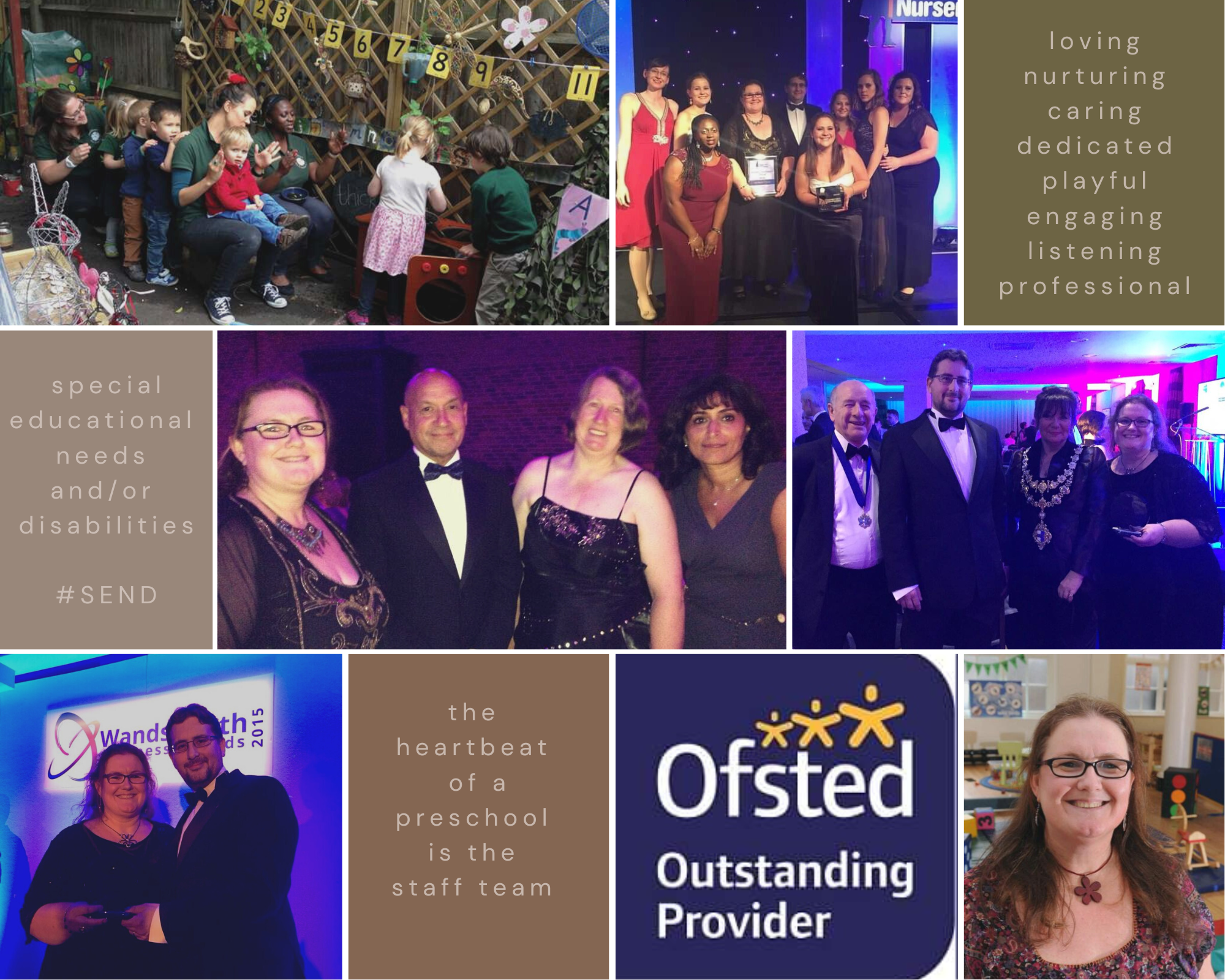 I am keenly aware we need to share the vital importance of the early years as much as possible. Civil society, Governments, and even parents oftentimes, do not fully realise the fundamental importance of early childhood development – how by focusing on the first few years (especially the first 1000 days), a country will have positive societal and economical changes in years to come.
I have had numerous early childhood development related articles published in the UK and SA. 
I have spoken at various in-person and online conferences in the UK and South Africa. ACSI (Association of Christian School's International) Strong Mind, Strong Child Conference (2021), It Takes A Village SEND (Special Educational Needs and Disabilities) Conference – UK and SA experts (2020), Preschools4Africa's National ECD Conference in Johannesburg (2019) and Penny Webb's Conference in Birmingham, England (2015), to name a few.  
I have worked/work with Govt. in the UK and SA in various ways, nationally and provincially, with a primary focus on policy and community projects, for e.g.: South Africa's Standard Operating Procedure (SOP) for ECD Centres to reopen from 6 July 2020,
during Covid-19.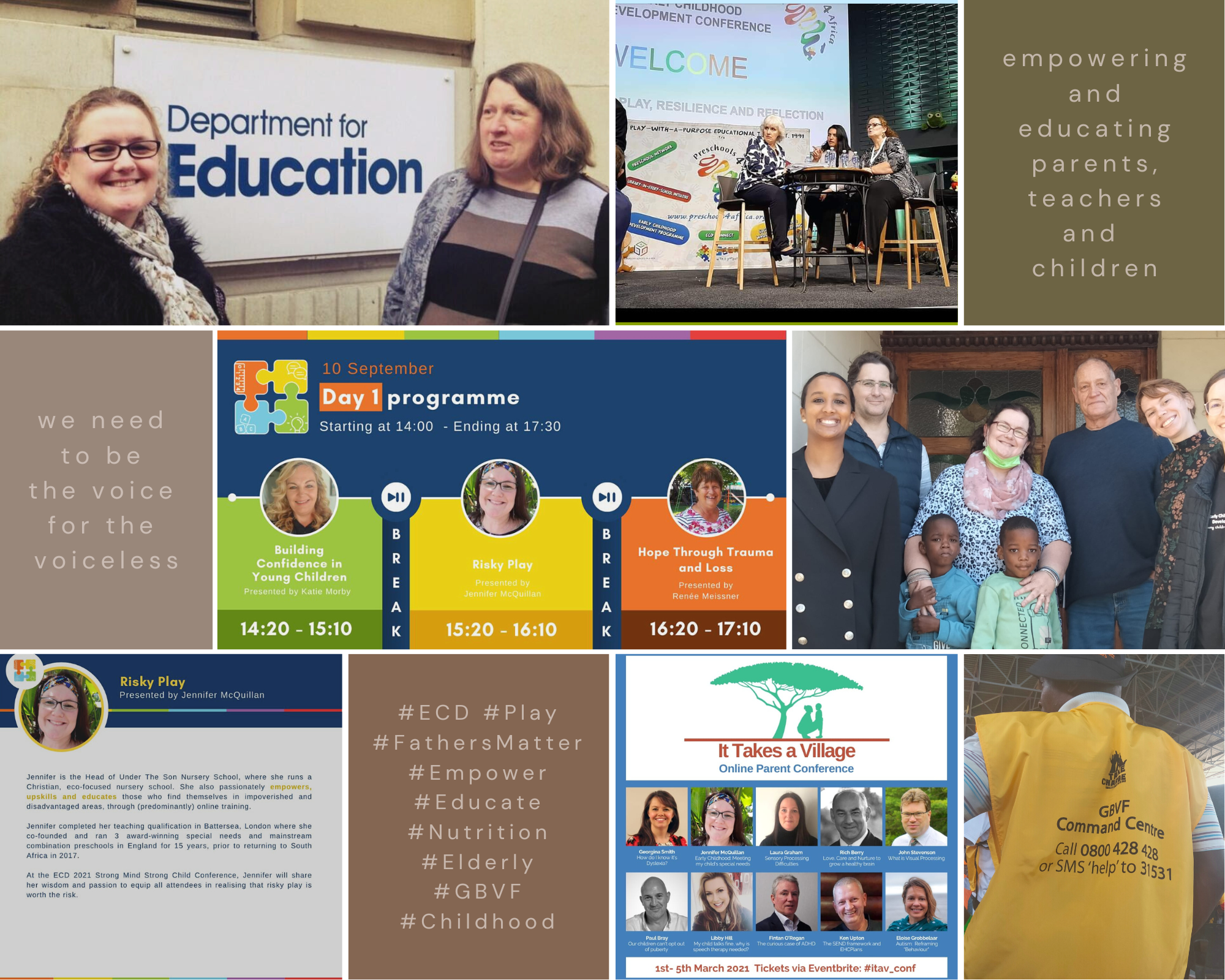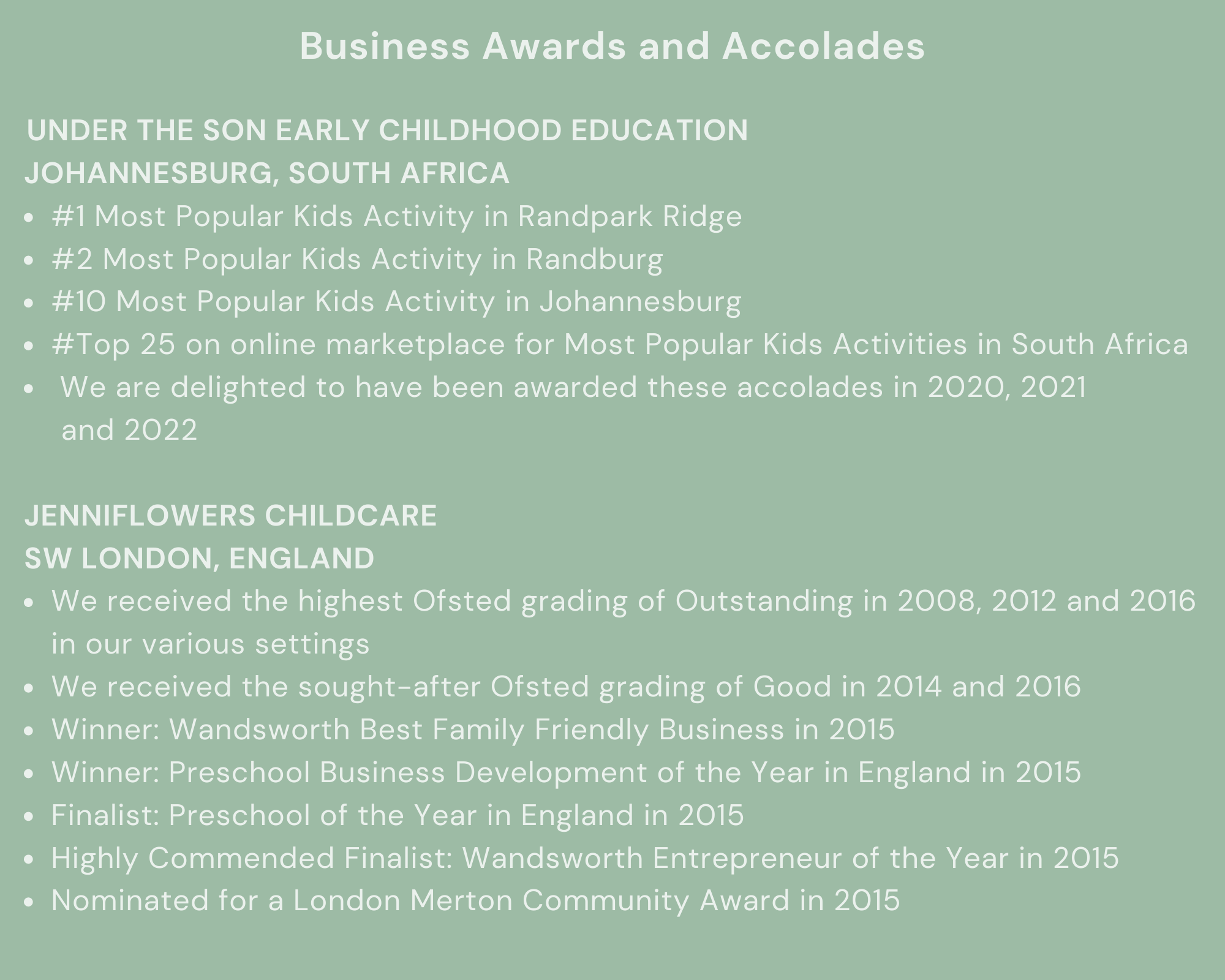 My primary aim as a committed South African, parent and educator is to help make an impactful, positive difference in the lives of vulnerable young children and women in South Africa.
Partnerships and collaborations are key. If you would like to partner in some way, please get in touch. It would be lovely to chat about potential collaborations. There is so much work that needs to be done in our beautiful South Africa, and if we all work together to make change happen, I firmly believe it will. 
ECD/Food Security/GBVF Collaborations: jen.ecds@gmail.com
ECD Emergency and Vocational Training: uts.workshops@gmail.com