Under the Son Education has a variety of practical, informative and inspirational short courses. Compiled by Principal and Owner, Jennifer McQuillan, the power point presentations are delivered via zoom webinars. Training used to happen face to face, but with the advent of Covid-19, Jennifer took her training online too. They have proved popular, with excellent feedback from attendees. 
As seen below, the prices for the courses are relatively low. Expensive training most often excludes the very people that need it most, and, Under the Son Education, being an all-inclusive and community driven business, aims to ensure that everyone who needs the training can do the training.
It is wonderful to collaborate with experts in other fields, eg finance. Gillian Whitehead brings with her an enormous amount of experience and knowledge in her Conscious Money course. Be sure not to miss it! Her course is R200 per person. 
On 26 June we are starting our First Aid and CPR training. This course is about 3 to 3,5 hours long, and is R390 per person. Presented by 2 experienced and well qualified nurses (with Phds). 

Our 1 hour long courses are R150 each.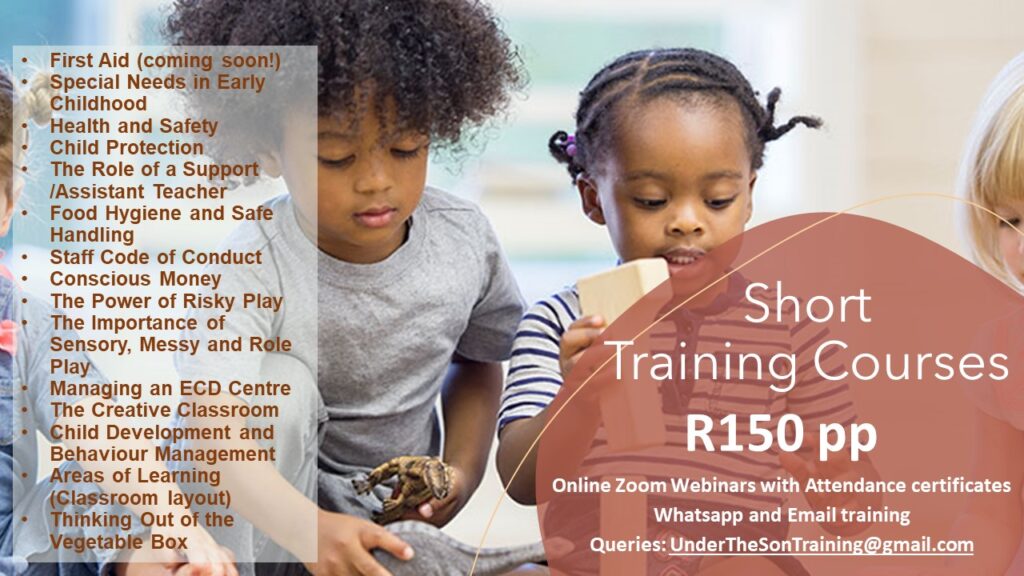 Aalia Ismael joined the Under The Son training team and presents our training courses, along with Jennifer. She brings with her a wealth of knowledge and experience, as seen below. We are delighted to have her on board!